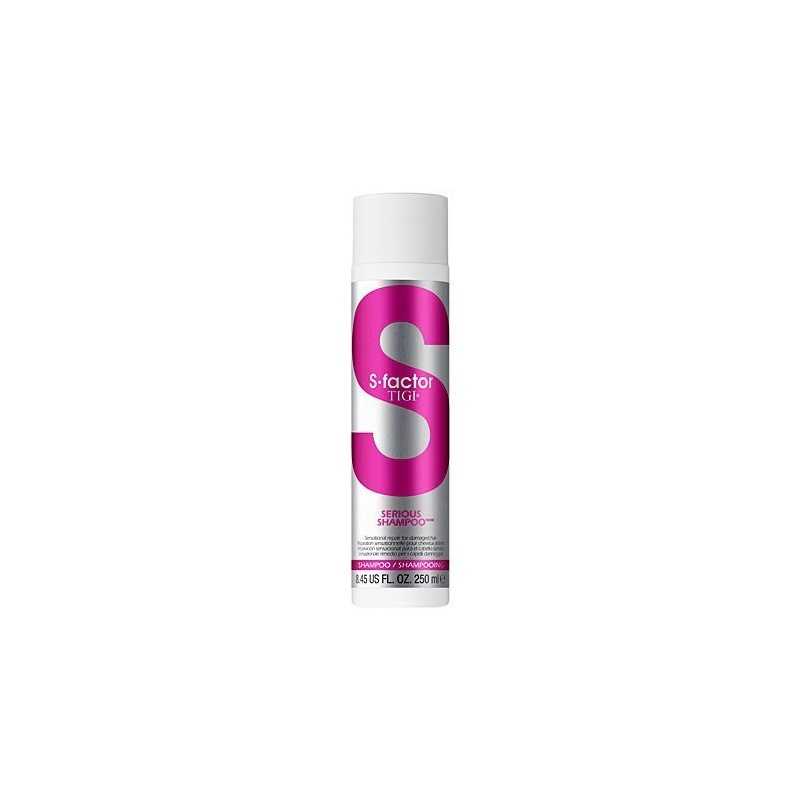  
TIGI S-Factor Serious 250ml, szampon
Szampon TIGI S-Factor Serious to profesjonalny kosmetyk przeznaczony do włosów suchych i zniszczonych, szczególnie osłabionych po zabiegach chemicznych i częstej stylizacji. Jeżeli Twoje pasma stały się matowe, pozbawione życia i łamliwe – potrzebują naprawdę poważnej odnowy. Ten szampon to pierwszy krok na drodze do pięknych i zdrowych pasm. Zawiera odżywcze składniki pochodzenia naturalnego. Olej ze słonecznika, bogaty w kwasy tłuszczowe omega 6 i 9 nada Twoim włosom sprężystość i miękkość, pomoże je optymalnie nawilżyć już podczas mycia. Jedwab tworzy niewidoczną, nieobciążającą warstwę ochronną, wzmacniając pasma, wygładzając ich łuski, przywracając blask i zapewniając optymalny poziom nawilżenia. Szybko zauważysz, jak zmęczone i zniszczone pasma odzyskują dawną kondycję.
Rezultat
Włosy stają się wyraźnie mocniejsze i zdrowsze. Są nawilżone, gładsze i bardziej lśniące. Szampon zapobiega puszeniu i elektryzowaniu, ułatwia rozczesywanie i układanie.
Sposób użycia:
Nanieś niewielką ilość szamponu na mokre włosy, masuj do pojawienia się piany, następnie spłucz. Po myciu zastosuj odżywkę S-Factor Serious Conditioner.
1 další produkt ve stejné kategorii: